Upholstery Cleaning FAQ's
                                                      How long does it take for upholstery to dry?

*Approximately 24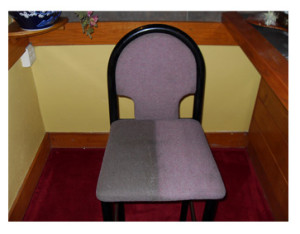 -48 hours depending on how soiled the areas are.
How long does it take to clean my upholstery?

*.5-1.5 hours depending on how many pieces that you have.
What do I need to do to prepare for a upholstery cleaning?

*Remove any breakable items from around upholstered areas. Clean out any lost change or trash from cushions or mattresses.

Are there any additional charges that i need to expect?

*We do offer additional to a standard upholstery cleaning. These services are always optional up the discretion of the customer. Some of these services are as follows:
Upholstery Protectant: This product is designed to apply a layer of protective coating between your upholstery and everyday dirt, oil, and the occasional spill. *Although this addition can increase the life of your upholstery over time and enhance the cleaning results, it does not stop the upholstery from getting dirty. Regular maintenance is still recommended. Protectant is removed during the cleaning process so an application will need to be done at the end of each professional cleaning.
Deodorizer: This process is designed to help eliminate odors from cooking, smoke, or pets. It comes in 4 different scent options: Pear, Vanilla, Linen, and *Cinnamon.
Spot Treatment: This process is designed to treat any stubborn spot or spill you may have on your upholstery.
Heat Exchange: This is a treatment that is used to transfer spots such as wine, nail polish, and other bright colored spots onto another fabric. This is the best solution in some situations. Please discuss any spots with the technician and provide as much information as possible of it origin so that they may make the best recommendation.
*These services are always offered to the customer during any cleaning, especially when recommended to meet our cleaning standards. All additional treatments have different charges and should be discussed when making the appointment to get an accurate quote.
How far in advance should I call to schedule an appointment?
*We are able to accommodate some "same-day" services. However, it is recommended to give us 2-5 business day to fit you into the schedule. The further notice you give us the better we are able to serve you.
What types of spots do not come out with a cleaning?
*Any spot where the fiber is no longer in tact will not yield improvement with cleaning. This may be the result of fiber deterioration , burns, or tears. Certain biological materials like blood, urine, and feces can stain the pigment of the upholstery. Products such as hair dye, Kool-Aid, etc. may also change the pigment of the upholstery resulting in a stain which can sometimes be remedied with a heat exchange procedure but not guaranteed.
How often should I have my upholstery cleaned?
*Residential customers are recommended to have their most frequently used pieces of upholstery cleaning every 6-12 months. If your property is used as a rental property, we recommend have the pieces cleaned more seasonally (3-6 months). Many manufacturers recommend these time periods as well.
Should I have my upholstery steam or dry cleaned?
*This is best determined by the type of material that your upholstery is made out of. Please locate the tag of your upholstery to find what it is made of so the appropriate technique can be applied.
*If you have any other specific questions you can call our office or submit an e-mail request form on this site and someone will get back with you as soon as possible.
So when in need of a quality clean call the team at 1-855-thuroclean or 843-903-6895